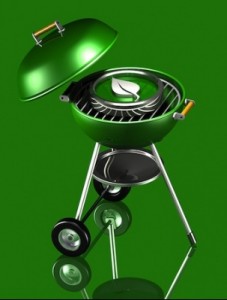 This coming Independence Day, as many as 60 million people will light up the grill. During this one day alone, grills nationwide release 225,000 metric tons of carbon dioxide.  So it's safe to say that charcoal grilling can produce air pollutants that could be hazardous to your health. So much so that grilling can be toxic. Burning charcoal produces fine, sooty particles that can lodge in lungs and irritate existing respiratory conditions like asthma, along with certain products can also release potentially dangerous amounts of carcinogenic volatile organic compounds such as benzene, which is known to disrupt cell functions.
Charcoal is the biggest culprit when it comes to releasing benzene, the predominant airborne compound released by glowing charcoal and firewood embers, and it can have some startling effects, according to the Centers for Disease Control and Prevention. According to them, people who breathe in benzene may feel drowsy, dizzy, experience tremors, headaches, irregular heartbeat, faint, or even die if too much is inhaled.
But breathing it in isn't the only way to take in benzene or other VOCs either, as these chemicals can leech into food. Eating foods contaminated with VOCs can cause vomiting, nausea, dizziness, convulsions and other symptoms as well, according to the CDC. Long-term exposure can result in bone marrow issues, anemia, lowered immune function, birth defects and even cancer.
However, despite the frightening facts, you don't have to kick your grill to the crub, as there are plenty of healthy and green alternatives to keep you grillin' and chillin' like Bobby Flay!
Contrary to popular belief, propane grills and natural gas grills are actually more energy efficient and burn cleaner than kin. The most energy efficient grills are electric, but for those who yearn for that distinctive smoky flavor, there are plenty of choices out there.
When shopping for alternatives to your charcoal, you want to avoid charcoals made with additives such as coal dust, sodium nitrate, limestone, starch, sawdust and petroleum products. Quick-start charcoals that have been soaked in toxic, petro-based lighter fluids are the worst offenders of all. Instead, there are a variety of substitutes that burn just as well.
Cowboy Charcoals are composed of untreated maple and oak scraps from furniture and flooring factories and are made without fillers or fossil fuels. They're available at Lowe's stores, and can even add a nice woody taste to your food. Whole Foods also has a similar product.
Although a super neat and green option is briquettes made of coconut shells. Greenlink Charcoal and Kamado Charcoal both offer chemical-free coconut briquettes, which are smokeless and produce little ash. Both companies also offer lump-wood charcoals as well.
One big tip is to rid your grilling area (and your habits) of lighter fluid as most charcoal lighter fluids emit VOCs. But an electric charcoal starter can get your coals rolling, or try a charcoal chimney starter. Some companies even create the fire-starting kit for you. One Light Charcoal bags can be found at Walmart and Whole Foods, and come in a single-use bag that has an internal chimney to get the all-natural charcoal red hot while the paper bag burns away.
For those stubborn starters, you could try Ecoflame Lighting Gel which is non-explosive and made from natural sugar cane alcohol. It's odor free, is safe to use indoors on fireplaces and retails for about $6.
Proper clean up is key as well. Opt for Simple Green Heavy Duty BBQ & Grill Cleaner as it is non-toxic and biodegradable, and the can — made with recycled steel — is recyclable too.
So with this, we set you free to grill at will, so long as it's healthy and green!
Related posts: