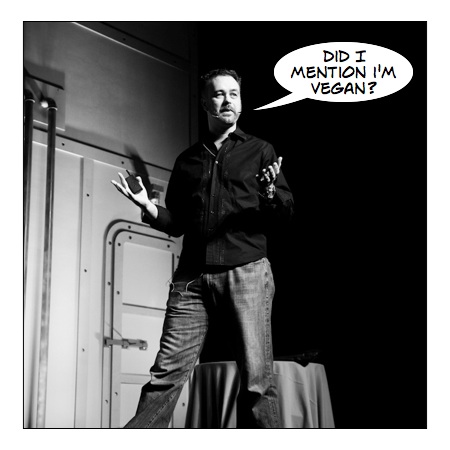 Everyone who knows me, will tell you that I am the least "preachy" vegan they have ever met. I will have dinner with you and not complain about your choices. I don't believe in forcing my opinions on anyone. No matter how strongly I feel.
I do however tell people that I am vegan and why I made the choice whenever it comes up.
As someone who sometimes speaks to an audience at conferences, my message often gets amplified.
I got a facebook message today that I wanted to share with you. Proving that you don't have to preach being Vegan as much as you just have to be an ambassador and explain your choice.
This was based on a brief 20 second portion of my talk where I mention being vegan, and this website.
——————————
You had the pleasure of meeting me at WP Detroit.
During your introduction, you said that you liked animals so much that you decided to stop eating them. (which most people just laughed at)
Well way to go motormouth – you made me think about what I was eating & I stopped eating meat over 6 months ago & now I am about to jump into the deep end going vegan.
My family joined me on my no-meat trial & we are all loving it so far. We now pay attention to what we eat & take much better care of ourselves physically.
Anyways just wanted to drop you a line and say thanks for the words it took to trigger that decision. You never know what you'll run into that can change things forever.
Later,
J
——————————
Let's welcome J to his new vegan lifestyle and celebrate how cool it is when our words can help people think differently.
I am so happy J contacted me to let me know about his lifestyle change. Thanks for the message dude, you made my day.
Related posts: