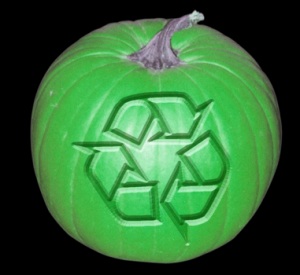 Just because you can claim you are possessed by demons on this time of year, it's no excuse to ignore your carbon footprint or your health.  There are so many ways to green your Halloween, keep fit and save money.  Here are just tips that will keep you from the frightening realities of an un-green Halloween!:
Keep It Local – Block and community parties not only help in alleviating the stress of throwing one big party yourself but it keeps everyone local. Instead of driving all around or busing your kids to the best candy neighborhoods, make it a groups affair that saves money, time, the planet and will be more unique then anything else across town! Each home can host a different part of the evening's festivities. One can do drinks while another hosts games, one can do the costume contest while the other has the potluck food.  To keep it healthy, snacks and candy can be found at all of the stops but the main food should be at one that starts off the evening so no one is overeating throughout the night.
Treats – Speaking of treats and over eating, here are some of my favorite healthier Halloween treats:
Toasted pumpkin seeds
Crudite Skeleton
Shredded carrot salad (shaped like a pumpkin with raisin eyes)
Baked apples with cinnamon
Heirloom Pumpkins stuffed with Risotto
Orange bell pepper and black olive pizza
Air popped pop corn
Guacamole Brain Dip
Pumpkin or Butternut Squash soup
Pumpkin Cornbread
Simple Spooky Slaw
Pretzels Witch Fingers
Cider made with 100% organic apple juice, simmered with cinnamon sticks
Also opt for natural and organic candy as opposed to the conventional stuff.
Decor –  Nothing is more fun then making your own decorations, especially if you have kids. It's cost effective when using materials you have at home as well as eco friendly since you're reusing items that would normally end up in the land fill.  Make headstones from cardboard boxes that you collect from things you've received in the mail, save your raked leaves and toss them out on your yard for a "dilapted, unkempt house look", build a scarecrow or ghosts out of old sheets & clothes, and decorate with lots of gourds & fall veggies as they can be planted or composted after the holiday. In addition, opt for LED lights and eco bulbs for your outdoor decor.

Costumes – The best rule is to shop year round at thrift stores and garage sales. Keep a costume bin so come October 1st, you're all set with all sorts of odds and ends to put together a screamin' good outfit. If you or a friends knows how to sew, it's easy to customize garments to suit your new identity.  Re-using old clothes and costume pieces keeps you from spending gobs of money on a store bought costume that is made of cheap, un-eco friendly materials that come wrapped in plastic. Besides, you will be unique instead of being 1 of 10 other sexy nurses at the party ; )

After the Ghoul Fest is Over – The most important part of a green Halloween is how you wrap it up at the end of the season.  If you've bought things that come in boxes, break them down and store them so that they can be used again next year for decorations. Compost left over veggies from the dinner, prep and decor. If you ruined your costume, don't toss it as you may be able to use fabric scraps for next year's costume. It's also a good time to take inventory of what worked and what didn't so you don't waste money on things next year that weren't such a hit. Save your time and energy on the things that rocked and plan ahead for next October!
Just because Halloween is supposed to be spooky, doesn't mean it has to be scary to your health, the planet or your bank account!
For more Halloween tips, tricks, treats and recipes, be sure to visit www.HealthyVoyager.com
Related posts: