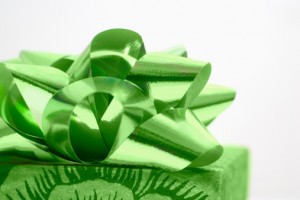 Christmas is just around the corner and there is still lots to do. Shopping, cooking, parties, and traveling cn take a toll on you and your wallet. But be sure to try some of these easy and fun green tips that will help you be more eco conscious this holiday season and may even save some green from leaving your bank account!
Decor
Natural Decor & Scents – Pine cones, tree trimmings, baked goods and seasonal produce (cranberries, gourds, etc) all give the "look" of the holidays without having to buy a bunch of holiday decorations. Simmer cloves and ginger instead of burning candles and use what nature provides toaccent tablescapes and rooms around the house. Rosemary, thyme and sage are all evergreen, wonderfully fragrant and can be used to season recipes all year long. Other fragrant herbs include basil, chamomile, lavender and mint. And small, living evergreen trees can be later planted in your yard for year-round beauty. Using live plants also reduces the fire risks that come with cut greenery, which can often become bone-dry by the end of the holiday season.
Green your tree – Ok, so fake trees may save lots of trees from being cut but they are made of very yucky, non-eco friendly materials. And cutting a tree and throwing it out after the holiday is also bad.  So here are your options! Recycle your tree after the holiday or invest in an eco-friendly faux tree!
Reusable, not disposable – Paper holiday napkins, placemats and tablecloths offer convenience, but waste resources. Invest in holiday dishes, glassware and cloth napkins that you use every year. They will be a great part of your tradition and can be gifted to your children as well.
LED –  The eco-friendly way to light up the holidays! These lights can withstand all kinds of weather and are long lasting and durable as well. When compared to other lights, they are reasonably priced and come in all the different shapes, colors, and sizes to choose from.
Last year's wrapping is this year's decor – Reuse last year's holiday items to dress up this year's celebrations. Cut up old greeting cards to use as gift tags or place cards, or tape the front of old cards to inexpensive, plain-color gift bags. Re-use last year's ribbons and bows, and frame especially-attractive greeting cards to hang on your walls as holiday accents.
Purge & Swap – Find other décor-hungry folks and offer to trade for the season.  Host a party and have people bring their décor items for swap and trade.  You never know what you might get!  Change up your theme tear to year without spending a dime!
Get crafty – Use left over materials to make your decorations.  This is great fun with kids too!  Get cloves and cover apples with them for a delicious way to get your house smelling nice, make salt dough decorations, popcorn chains and wreaths, paper snowflakes and more!
Wrap it up – instead of splurging on new wrapping paper, get creative. Use newspaper, junk mailers, or left over paper. Decorate it and have fun with it!. Turning paper grocery bags inside out and decorating them is a great green way to wrap ; )
Shopping
Make a list and check it twice – Making a list will save you the time, trouble and money you would spend if you just went to the mall willy nilly. List out all the people you need/want to get gifts for, then note some ideas down next to each one along with the total amount you want to spend for that person.
You better shop around – Do your homework this year and find the best deals for the items on your list. Don't just buy the first thing you see just so you can cross it off your list. Deal hunt and also find out store price matching policies along with shipping deals, etc.
What's old is new again – Hit up vintage stores for that on-of-a-kind gift.  You're find something so unique and great that it will be the most talked about gift for years to come.
Give instead of receive –  Purge your house of unwanted items and take them to a consignment store or donate them.
Re-gifting, no longer a faux pas –  Why sit on something that you know you will never use. So long as it's in good shape, it's better off going to someone who will enjoy it.
Map out your shopping days –  Knowing where you need to go and planning your route can help you save time, gas and money. Again, heading to the mall willy nilly can really waste quite a bit of valuable time, money and gas. Consolidate trips to areas where you can get the most done, know store hours, deals, etc.
Shop online – Save yourself the agony of driving around, looking for parking, fighting the crowds and not getting what you need as it's out of stock.  Skip the annoying steps and get right to the giving along with saving yet another trip to the post office to ship the gifts out yourself! Also, find sites that offer green packaging.
Rid yourself of the wrap –  So many items are packaged using excess plastic and other packaging materials. Try to avoid items like that as they are simply wasteful. Another great reason for hitting up vintage stores.
Not every gift needs to be a store bought one –  Sometimes making dinner, spending some one-on-one time, making a photo album or other personalized gift (a nature wreath, a bouquet of flowers, candle holders, etc) can mean much more than a store-bought gift.
Party
Cook once, eat thrice – Cook large batches of food that can be used in a number of items throughout the week. Also, make large batches of sauces and entrees like lasagna that can be frozen and re-heated in a pinch!
If hosting a party, opt for reusable dishware. You can even ask guests to bring their own plates, utensils and glasses! But if you're not in the dish washing mood and want to conserve water, opt for eco-friendly, 100% compostable dishes, napkins and utensils instead.
Buy local, organic produce for your salads, snacks and goodies'!
Recycle! Beer bottles, soda cans, etc – be wise and have a well labeled recycle bin placed in a convenient location at your party.
Make smarter drinking choices like juices with organic liquor, organic wines and beers and most of all, drink responsibly.
Opt to make a healthy dish to bring to the festivities. Pre-packaged sides and snacks are full of preservatives and unpronounceable ingredients as well as yucky plastic packaging that fills up our landfills. If you can't cook, bring organic bagged lettuce, organic dressing, a big bowl and you've brought a healthy side everyone will appreciate ; )
Have yourself a greeny little holiday season!!
For more information, visit www.HealthyVoyager.com
Related posts: