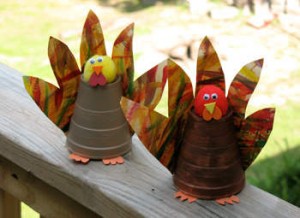 Thanksgiving is best known for the gargantuan feast, football and insane holiday shopping. The excess of food and consumerism can be overwhelming so this year, why not go green and even be a little creative with the holiday itself?  Here's how!
Buy local and organic. Shopping for food and or ingredients to make the big meal can be time consuming and costly. Do your best to make wise choices and choose locally grown and made products. Lower your carbon footprint by saving the shippers gas and stimulating the local economy. This goes for your booze too!
If you're hosting dinner this year, decorating is a wonderful way to get into the spirit of things.  Instead of buying seasonal decorations, make them instead.  Have your kids collect pine cones and acorns and sprinkle them with glitter.  Place them in a glass vase you already own or a hollowed out pumpkin for a beautiful end result. Decorating with natural products like falling leaves, gourds and corn make the home look festive without wasting money on disposable, eco un-friendly decor.
Make use of what you have. This is one of the easiest, cheapest ways to go green any day of the year, and it works on Thanksgiving, too. You don't need fancy dishware – your regular tableware will do just fine. If you're the Martha Stewart type and feel like everything must match perfectly, consider renting tableware, chairs and linens – it costs less than buying new.
Mood lighting. No need to turn on every light in the house for your guests. Create a romantic atmosphere without adding to your electricity bill by placing beeswax or soy candles around your home. Avoid paraffin candles, though – they're made from petroleum and emit nasty fumes into the air.
Waste not. Don't toss those potato peels, celery tops and carrot ends into the trash! If you're not the type to save them for soup broth, toss them in a bucket along with a handful of shredded paper, leaves or other carbonaceous material. If you don't already have a compost pile or bin, now's a great time to get a head start on next spring's garden by creating free, fertile compost.
If you aren't able to make it home this holiday,  gather up a group of others who can't make it home and have a potluck dinner.  It's great fun to cook together to create a beautiful meal and enjoy the eclectic menu. Make it an event to look forward to with games, movies or even holiday crafts or even host a "Thanksgiving Throwdown" cooking competition a la Food Network style. Whether you are hosting or going to a dinner, make a full day of celebrating so that no one is feeling lonely. It is also great fun to host a Thanksgiving leftovers brunch so that the food does not go to waste and it is a way to continue the fun with your friends for a lovely holiday weekend.
Be creative with your menu.  If you can't afford all of the usual holiday fixings, cook up a more affordable menu like pasta, salad and rolls. Or if you're looking for something different, try a themed dinner. No matter what is served, it's all about the company ; )
If you don't have time to cook, make it a semi-homemade dinner and plan ahead.  It's always smart to cook a few things ahead of time and freeze/refrigerate them until the day of.  And for labor intensive parts of the meal, be sure to check your local markets to compare pricing on pre-cooked holiday meals.  In addition, if you are invited to a dinner where you know you're dietary needs will not be met, bring your own meal (which can be ordered as well) along with a dessert or a bottle of wine for your host. Then everybody wins ; )
Give instead of receive. Volunteer at a local shelter or soup kitchen and help those who are less fortunate.  Clear your cupboards of non-perishable food you know you will never make and donate it to a food bank to help feed a needy family this year. Rally your friends to do the same and make a day out of it ; )
Whatever you do this Thanksgiving and through the holiday season, don't forget to keep it green, give thanks and surround yourself with people you love!
Related posts: