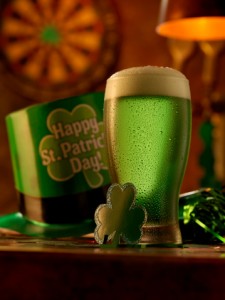 St. Patrick's Day is here and that means green food, green garb and yes, lots and lots of green booze. While many will partake in the Irish themed festivities, there are ways to keep from partaking in the day after traditions of feeling ill. I've compiled some of my easy and healthy tips to keep you from being green well into the days following St. Paddy's Day!
What to do before your green hued liquor binge:
St. Paddy's Day morning, start off with a healthy glass of green juice. If you are lucky enough to have a juicer, you know what to do to make a killer green drink. But if not, the next best thing is to guzzle a green beverage by Odwalla, Naked, Trader Joe's or Bolthouse Farms. You will get a few of your daily servings of hearty veggies in one glass as well as boost your immune system for later, not so healthy action ; )
Walk or ride your bike to your local Irish pub to save up some calories, gas and the environment as well as to help save lives after to much green fun ; )
If the bars are not in walking distance, designate a driver!! No excuses!!
Drinking plenty of water before going out to drink as well as drinking an occasional glass of plain water during the time that you are consuming alcohol. Be sure drink a full glass of water just before going to sleep that night.
Have a dinner of starchy foods such as pasta or potatoes. Starchy foods slow down the alcohol absorption.
Drink slowly (nurse your drinks). Less alcohol consumption equals less chance for a hangover.
If you and/or your friends have overdone it, put your keys away and call a cab. Don't press your luck!!
Things that can help you if you do overdo it are:
Taking vitamin c as it will help to breakdown the alcohol faster in your body.
As soon as you wake in the morning drink another full glass of water.
Also, taking vitamin B complex capsules you will lessen the time that your hangover will last.
You can make a hangover tea by crushing 5 to 6 thyme leaves and place them in a cup. Fill the cup with water and simmer over low heat for 5 minutes. Remove the leaves and drink the remaining liquid.
Placing a cold pack to the forehead will give immediate relief from a headache.
Consuming alcohol puts toxins into your body. You can help to drain these toxins from your body by taking a hot bath in the morning. When you drain the toxins you will experience less symptoms.
Eat a banana for breakfast the morning after you have been drinking.
Have a nice cup of Milk Thistle Tea with your meal as it will aid in your liver's ability to process alcohol better ; )
For the morning after, to replace electrolytes & rehydrate, make this homemade gatorade:
HOMEMADE GATORADE
2 quarts filtered water
1/2 cup organic orange juice
1/2 cup organic sugar
1/2 tsp sea salt
Mix all the ingredients together and serve chilled. Also, have some Ginger Root Tea, bananas & saltines handy for upset tummies.
Here's wishing you a happy, healthy and lucky St. Patrick's Day!
For more information, visit www.HealthyVoyager.com
Related posts: