Hey all! Megan again with another vegan product review!
Amy's Organic dishes were some of the first things I ever turned to upon deciding to become vegetarian. Needless to say, the grocery bills were rather expensive as I was blowing most of my cash on microwavable dinners. Today however, I buy mostly produce and get creative with food, but as I previously mentioned, sometimes, a quick meal is the only way to go.
I love just about everything Miss Amy does; her pizzas are no exception. The no cheese, roasted vegetable pizza is my favorite but when I recently found this one, I wasn't sure what to expect. Most vegan "cheese" that I've tried has been really good so I wasn't worried about Amy's cheeze; it was the rice crust I was skeptical of.
My skepticism quickly turned to a renewed feeling of love for Amy as this little pizza is, simply put, delish. The rice crust adds an interesting flavor and the cheeze is quite good itself. The photo on the box makes the pizza look a lot "cheezier" that it actually is but I personally don't mind. It's still a great little dish.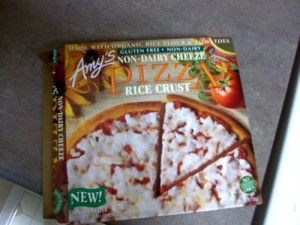 Now, no, this probably isn't something you could feed to a non-vegan and convince them that its great pizza like you can with Amy's other pizzas (I used to buy Amy's Spinach and Cheese pizzas for myself and an ex, non-vegetarian, boyfriend all the time), but I still thought I would share it with you all! 🙂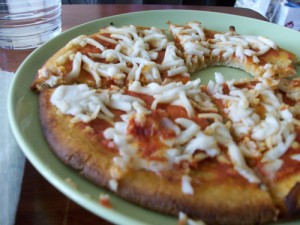 Until next time,
Megan
Follow me?
Twitter.com/MeganRadke
Related posts: