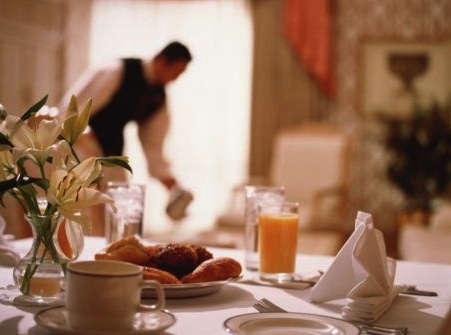 Ah, traveling vs. the battle of the bulge. Or for some who follow restricted diets, like me, travel can sometimes be off limits. But fret no more as here are a few of my favorite tips and tricks on how you can travel, despite any dietary restrictions, by whipping up easy meals in your hotel room to save your figure and your cash!
Make your hotel room coffee pot your friend! It's not just for coffee anymore!  Pack miso soup packets or stock up on canned beans and/or soups at the local convenience store or market and heat up quick and healthy dinners in the comfort of your hotel room. This way you not only save time and money but you are sure to eat well before running out for a day of adventure.
Don't cut out your cutting board! Yep, pack a thin, silicone cutting board and load up   on local fruits and veggies so that you can chop up and pack for healthy snacks while on the go. Whipping up a quick salsa to eat with carrots or chips or even mashing up some chick peas for hummus is easier to do in your hotel room then you think!
Slice and dice! Pack a small knife in your checked baggage so that you can chop fresh fruit and veggies for salads, salsas and more.
Ice bucket, don't chuck it! Use the ice bucket as a mixing bowl and the ice tongs to toss dressings and sauces into salads, noodles, etc.
Get creative with leftovers. Sure, dine out but be crafty with your doggie bag remains. Load up on the bread basket to make quick in room sandwiches or even bruschetta. Keep rice and noodles and mix with fresh veggies or even left over sauce packets from random fast food joints.
Drink your veggies! Eating well can be tough when traveling so be sure to get in all your veggies before you get the day started. Pack super green or veggie powder packets such as Go Greens by To Go Brands, mix with 8 to 12 ounces of water and down your 6 servings of veggies in one shot. This way, if you aren't able to grab a salad and end up living on chips or sandwiches while out, at least you've gotten in your greens, vitamins and minerals for the day.
Be sure to pack some of your favorite bars, snacks and foods so that you not only have stuff on hand during flight or sightseeing, but also have ingredients on hand to quickly prep in room.
Scope out local farmer's markets and grocery stores to stock up on fresh fruit and quicky foods.
Dining out while traveling can really put a dent in your wallet but also in your tummy if you're not well fed. Do your best to prep breakfast and even some snacks in room before heading out to make sure that you've got the energy for the day and you don't fall into the "gift shop bag of chips" trap! No matter what type of diet you follow, pack your bags and see the world because now, food won't be your speed bump!
Related posts: