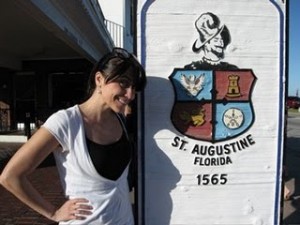 There is something about being in the oldest city in the United States that evokes a feeling of pride, patriotism and hunger! Taking a guided tour through the fort, going to the oldest school house and visiting the fountain of youth can whip up a mean appetite. St. Augustine offers up a variety of sightseeing tours but where can a health nut chow in an old timey town? I'll tell ya!
Rolling into town, I needed sustenance. I had read up on The Manatee Cafe and had to hunt it down. And was I glad I did! I had a killer breakfast burrito with hummus, beans, avocado and all kinds of other healthy fillings. I wanted to eat everything on the menu but I knew there was more to try throughout the day so I behaved. For any meal of the day, definitly make one of them at The Manatee Cafe!
Stepping out for the day in downtown, I needed a pick me up. I strolled over to Crucial Coffee Shop because the sweet smell yanked me over! Crucial is in the thick of the historic district, in a cute old wooden cottage, plopped on the corner of an old brick road. Sounds magical, eh? Well so was their soy chocolate madness latte! It hit the spot for my holiday time sweet tooth as well as gave me the jolt I needed to walk the oldest streets in the nation ; ) Crucial is way cute and way yum, walk on up and have a cup o' joe at 26 Charlotte St, St Augustine, FL 32084,(904) 810-2080.
Since we were with the familia, we decided to have lunch on the water where the nieces could feed the birds and the fish. Santa Maria is not positioned on a sea wall, it really is on the water, on stilts, and quite the place for hungry seagulls, and human families, to dine. It's seafoody, rustic ambiance scared me into thinking I'd be consuming nothing but bread and tea but I was wrong! They had a yummalicious black bean burger and a big old salad for me and I ate every last crumb ; ) The kids, the birds, the fish and the vegan had a fine lunch at Santa Maria!
On our way out of town, we rested our weary feet at Pizzalley's. A cute Italian joint in downtown, it was all hustle and bustle. And for good reason! The food was very good and the prices were just right. I ordered up the "create your own pasta" dish, sans pasta (might have had egg in it). They sauteed up a slew of yummy veggies in a super delish marinara and I was in a food coma all the ride back. It's a cute place with a fun vibe and great food right in downtown St. Augustine at 117 St. George St, (904) 347-2479.
I hadn't been to St. Augustine in many, many years. I was glad to see that it was still as quaint and pretty as I had remembered and I was even happier at the fun places that have sprouted up for nutty people like me to fill their hungry bellies ; ) I'm excited to pop back in very soon!
Related posts: