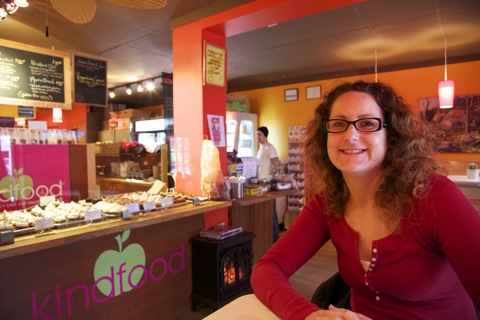 It was a rainy day on Saturday and usually Brad and I would stay home and watch movies, but we decided instead to take a drive and try out a vegan bakery and cafe called Kind Food. Kind Food is located in Burlington, Ontario which is a little over an hour away from where we live. Unfortunately there are no vegan places that aren't at least an hour away, so we're used to driving 🙂
We had already gone to Kind Food's website and checked out the menu, so we knew what we were going to have even before we got there. I got the B.L.A.T. Sandwich, which had vegan bacon, lettuce, avocado, tomatoes, carrot and vegenaise and was served on this amazing multi grain bread (it was so good I bought a loaf to take home). It was delicious as was Brad's Kind Burger, a grilled tempeh burger with melted Daiya. Both were so good, I am going to attempt to make my own versions at home.
Since Kind Food is also a gluten-free vegan bakery, we couldn't leave without sampling some sweet stuff. We got a Dulce de Dulce cupcake, Mile High Brownie, and a chocolate covered donut to go. We also shared a cookie sandwich, pictured below, but I'm not sure what it was called. It was really good, but very sweet so I only  had a couple of bites and Brad devoured the rest. He has more of a sweet tooth than I do :)The other baked goods that we got to go were equally as tasty. We weren't so nuts about the donut, but the cupcake and brownie were heavenly.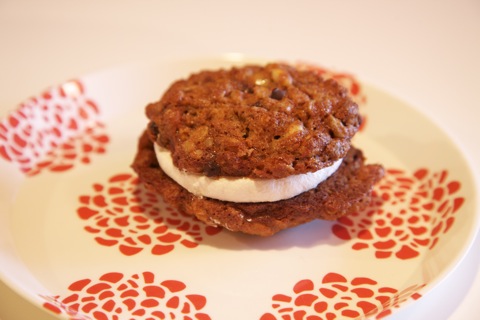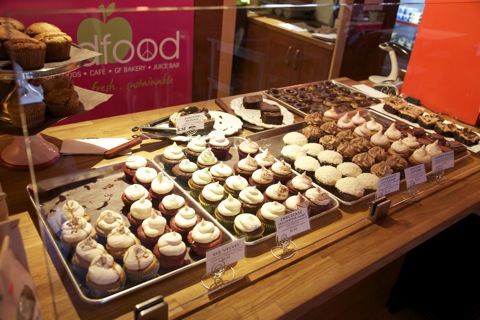 The cafe itself is pretty small with limited seating, and it was a little confusing to know wether we should go up and order or if someone would come around and take our order. We figured it out and the staff were super helpful and knowledgable about all the delicious choices. The food isn't cheap, but well worth it, and as the sign below the menu says "Good food ain't cheap….and cheap food ain't good."
Related posts: