When I found out my non-vegan friends were having Sunday brunch without me, I asked them why. The response I got was "we make buttermilk pancakes and they aren't vegan."
So I asked my friend Aileen for her recipe to see if  I could veganize it, and this is what I came up with.
I invited them over to try the vegan buttermilk pancakes and they were amazed that they couldn't tell the difference. Even my friend's 11 year old daughter loved them.
Since they were such a hit, I have included them in my new breakfast cookbook "Are You Sure That's Vegan?". Try them the next time you have friends over for breakfast or just feeling like having yummy pancakes.
Ingredients
2 cups soy milk
2 tablespoons apple cider vinegar
2 cups all purpose flour
1/4 cup white sugar
1/2 tsp salt
2 1/4 teaspoons baking powder
1/2 teaspoon baking soda
1/2 cup unsweetened applesauce
1/4 cup melted vegan margarine
Directions
Mix the soy milk and apple cider vinegar together. Set aside to curdle for 5-10 minutes.
In a large bowl, sift together the flour, sugar, salt, baking powder and baking soda. Mix the melted margarine and applesauce into the curdled soy milk.
Using a spatula, combine the dry and wet ingredients to make a thick, lumpy batter, taking care not to over mix.
In a non-stick pan or griddle, melt some margarine over medium-high heat. Ladle 1/3 cup of batter onto the hot pan. Take care not to overcrowd the pan, since the pancakes will puff up as they cook.
When bubbles appear on the surface of the pancakes and the edges begin to brown, flip the pancakes and cook the other side. It should take about 2-3 minutes per side. Keep the pancakes warm in a low oven while you make the rest.
Makes 14-16 pancakes.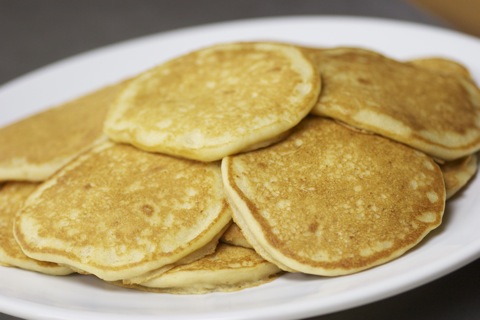 Related posts: