Ingredients
2 cups whole wheat flour
2 cups quick oats
3/4 cup Demerara or brown sugar
1 1/2 teaspoons cinnamon
1 teaspoon baking powder
1 teaspoon baking soda
1/2 cup unsweetened applesauce
1/2 cup canola oil
1 1/2 cups soy milk
3 apples, peeled and diced into small pieces
Directions
Preheat oven to 350°F. Grease muffin tin(s) and set aside.
In a large bowl, mix together the flour, oats, sugar, cinnamon, baking powder and baking soda. Add the oil, soy milk and applesauce, mix well. Stir in the diced apples.
Fill the muffin cups 2/3 full with batter.
Bake for 20-25 minutes or until a toothpick inserted in the centre comes out clean. Let the muffins cool for a few minutes before removing from the tin. Allow to cool completely on wire racks.
Makes 14-16 muffins.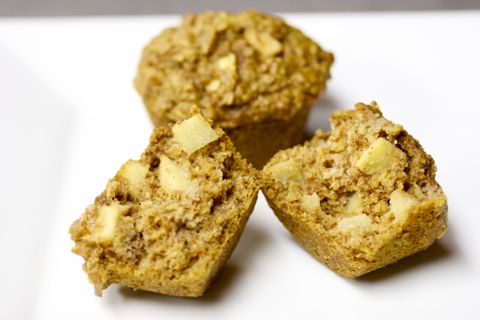 Related posts: