Hello there!  I'm Stevie and I'm also going to be a guest blogger on this site.  I figure it's best to start out with why and how I became a Vegan.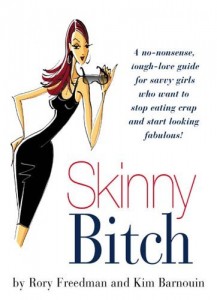 I dabbled in vegetarianism for quite a few years, although I didn't really do it properly at first.  I was having a constant problem eating the right things and found myself eating take out far too often, which is really easy to do in Toronto since we have so many great vegetarian options around.  I barely cooked anything and even boiling water seemed to take up too much of my precious time.  I'm a city girl through and through and time is of the essence!
That all changed after I randomly picked up 'Skinny Bitch' by Rory Freedman and Kim Barnouin.  It's almost amazing how many people changed their diets after reading this book.  It's definitely a no-nonsense guide to why you should be giving up the animal products and by-products and when I read it in my office over lunch one day I decided that I would give this whole Vegan thing a try.  As a huge animal lover, I was having problems reconciling my diet to my conscience.  I'm not sure if this happens to all Vegans before they take the plunge but I was getting some strange feelings of guilt every time I bit into a chicken wing and I didn't feel like burying that feeling would solve the problem.
I'm mostly against factory farming.  I know that living where I do, I have the option of buying some great organic free-range meat products but I'm not yet comfortable with that idea.  I've always said that if I can go to the farm myself and check out the conditions then maybe I'll partake in some meat.  Animals as a commodity drives me almost as insane as people as commodities, so Vegan it is!
Since making the switch two years ago, I've been cooking a heck of a lot more and treating my body incredibly well.  I've never felt healthier or more fit than I have in the past two years and I've even noticed that I barely get sick these days (when I do, it seems I can brush it off a lot faster than others with the same cold!)
I'm not really an 'evangelistic' Vegan.  I like to talk to people about what I eat or "how I get my protein" – the most common and sometimes annoying question we all seem to get, but I don't really preach on the benefits I've felt since making the switch.  I try to just let them see it for themselves and if anyone's curious, I'm very happy to provide some recipes or tips to get started.  Every little bit helps!
I plan to write more about my cooking and even some posts about the restaurants I go to – I travel a lot with my job so it may be different places around the world.  I also read a ton of books and may review some of the animal rights literature.  Hopefully you'll get to know a little bit more about me as we go along and I'm excited to get to know more about the others on this site as well!  My personal blog is over here if you want to check out a bit more about me.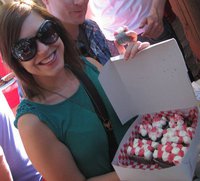 That's me and some vegan cupcakes I picked up for a barbecue on Canada Day!
Cupcakes were from Wanda's Pie in the Sky in Kensington Market, Toronto
and they were gone within 5 minutes of me putting them on the table.
-Stevie
Related posts: