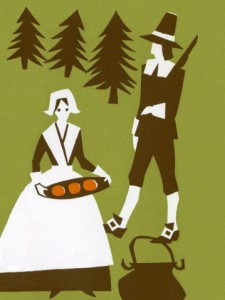 Soon we will be traveling, cooking and gathering, all in the name of the Thanksgiving holiday. From the meal to the holiday shopping to the last leftover, as a nation we will be consuming and spending like nobody's business. And while we must take this weekend for holiday fun and tradition, we really must remember that Thanksgiving is a time for giving thanks and being grateful for what we have. And what we all have is a great planet and resources that we need to protect so this coming Thanksgiving holiday is the perfect time to go green.
Here are a few ways to make your Thanksgiving greener which will be a sign of thanks for all our earth gives to us!:
Use nature to decorate – Use seasonal fruit, vegetables and plants that can be composted after the holiday. Gourds can adorn your table; then you can cook with them and/or compost later. Also, making decorations with kids from recycled materials keeps them busy, sparks imagination and makes lasting memories.
Drink Organic – Or biodynamic. Booze that is! When shopping for adult Thanksgiving beverages, remember that organic, biodynamic, and natural wines have been produced without polluting pesticides or chemicals. And if your bottles travel thousands of miles to reach you, try to at least support small, independent vintners. In addition, it's healthier for you and your guests!
Don't wash the dishes – This Thanksgiving, use bamboo disposable plates or compostable paper plates. This will save time and water in addition to saving non-eco disposable ware from sitting in a landfill.
Keep it organically local – To minimize carbon emissions, support small-scale farmers, and know where your food is coming from, buy local food that hasn't been driven by truck all over the country to make it to your dining room table. Plus, organic farms are good to the earth and good for you.
Skip the turkey – Yep, I know he's the mascot but factory farms are the largest contributors to greenhouse gasses and pollution. Try out a vegan wellington full of delicious grains and veggies and top with a savory gravy. It's full of flavor and won't put you to sleep!
Waste not, want not – Don't overcook. Thanksgiving causes folks to cook up big feasts regardless of the amount of folks on the guest list. No matter what, people always end up with tons of leftovers that eventually get tossed. Save money and don't waste food.  Cook enough for the folks who have confirmed their attendance or better yet, ask that everyone brings a dish to share and then you aren't left with a week's worth of leftovers.
Plant a tree – This is an action that the whole family will enjoy and is the gift that keeps on giving. Take a photo every year by the tree and see how much it has grown since it's birth this Thanksgiving ; )
Carpool and travel light – You can't help it if you need to fly to get where you need to be this holiday but you can offset your flight by purchasing carbon offset credits. And if you have the luxury of driving to your destination, carpool or take mass transit.
All of these tips can save time and money while also contributing to your health and showing mother earth that we haven't forgotten about all that she does for us ; )  Have a very eco Thanksgiving!
For more information, visit www.HealthyVoyager.com
Related posts: