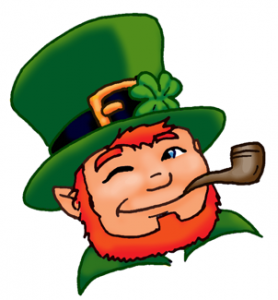 Green, green, green. St. Patrick's Day calling card is anything and everything green. Outside of drinking beer, there are a few more things that make up the Irish holiday.  Green clothing, green food and green decor.  So here's a fun list of was to make this green holiday actually feel eco -friendly too!
Color me natural – Add a little Patty's Day coloring to anything on the menu with all natural, vegan, gluten-free food coloring by Seelect. Made of vegetable and fruit dyes, add it to your favorite eco beer for a seriously festive drink.
Bake up a storm – If you don't have time to whip up a batch of Irish Soda bread for a yummy St. Patrick's Day breakfast, try Garvey's Organic Irish Soda Bread Mix – it'll give your party a little authenticity (and help soak up the beer!).
See the world through green colored glasses – Who needs to dye their beverage when you can drink out of naturally green tinted glasses by Trycycle. A large variety of glassware from wine glasses to pint glasses, goblets and more, these lightly green hued liquid containers are made from 100% recycled glass.
Walk like a leprechaun – Avoid being pinched by rockin' green shoes by Keds Green Label line. 100% organic, vegan sneaks, while their green as is, you can also get them in the color green ; )
You can't top this – The most obvious of St. Patty's day fashion is the green t-shirt. Be sure that it's also eco -friendly along with being cute by picking up
Drink green – Yeah, yeah, we know everything is green on St. Patty's but really drinking green means supporting local and/or organic breweries. Check out some of these eco friendly and organic breweries: New Belgium Beers (a worker owned co-op run by wind power), Brooklyn Brewery (also run by wind power in NYC), Peak Organic, or North Coast Brewing Company. And remember if you must drink out of the bottle, be sure to recycle!
Dispose of the idea of disposables – Do your best to avoid plastic decor and accessories. These will most likely get tossed the day after the big party and will fill up the landfills for the next 100 St. Patrick's Days to come. Put fresh clover in your hair, use fresh greenery or hand craft your own decor instead!
Eat green – Go for organic, local and vegan foods to chow on this year. It's the greenest you can get!
Have a fun, safe and really green St. Patrick's Day!!
For more information, visit www.healthyvoyager.com
Related posts: