When I first became vegan, soy milk was only available in health food stores, it was really expensive, and it tasted kind of like hay. 13 years later, soy milk is available everywhere, it comes in 2 liter containers and it doesn't taste like hay anymore.
There are many different brands of soy milk to choose from, and I've tried most of them, but my personal favorite is still So Good. Some of the varieties that So Good comes in include original, fat free original, vanilla, light vanilla, chocolate, and strawberry.
So Good original is the first plain soy milk that I actually enjoy drinking by the glass. It is also great for replacing milk in cooking and baking. I like to use fat free original for my smoothies. It's a little more watery than the original so I don't like to use it on cereal or cook with it, but in a smoothie you don't notice. As a treat I like to buy the chocolate or strawberry soy milk. I have given both the chocolate and strawberry to my nieces before, and they just thought it was chocolate or strawberry milk. They had no idea it was soy.
The other thing that I like about So Good, is that it's usually in the dairy section of the grocery store, so I don't have to go out of my way to find it. It's also fortified with 15 essential vitamins and minerals and it's made with non GMO soy protein.
I also have to mention that So Good has a line of soy ice cream as well. Flavors include vanilla, chocolate supreme, and butterscotch swirl (my favorite).
If you haven't tried So Good yet, I highly recommend that you do 🙂
P.S. Here's a link to a smoothie recipe using chocolate So Good.
Vegan Chocolate Banana Smoothie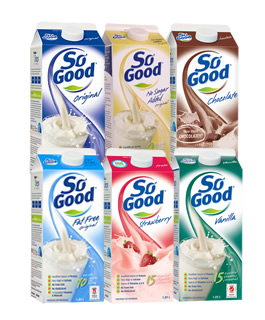 Related posts: