Hi there, I'm Megan! Nice to meet you all, friends! I love sharing foods and recipes, so here goes nothing!
When I became vegetarian three years ago, I not only felt better physically and mentally, I discovered a love of cooking that I never knew I had, a desire to be more adventurous when trying new foods, and, believe it or not, a love for buying groceries. It was only natural that the progression to eating a vegan diet increased these even more.
I get excited at the thought of shopping at Whole Foods and literally become giddy when I read ingredients on a new product and see that it's vegan. Needless to say, I was thrilled to stumble upon this gem at the random market around the corner from my apartment.
I'm a college student, so sometimes a quick meal is the only option. My love of Thai food first drew me to Helen's Kitchen products, as their Thai Yellow Curry is one of my favorite entrees, but the dish options that came to mind when I found Helen's Meat Free Chik'n Steaks were endless.
Certified organic, vegan, and Gluten, MSG, and GMO free, these TofuSteaks are great in salads or in sandwiches but can also be used in everything from enchiladas to pasta.
Toss one in a skillet, lightly coated with olive oil, cook until its golden brown on both sides and heated throughout, then enjoy! I most often use them in spinach salads, complete with avocado, cucumber, tomatoes, carrots, and a couple of tablespoons of vegan ranch dressing. It's a great, light salad, perfect for the summer or any season!
You can go to www.thehelenskitchen.com to learn more about all of Helen's Kitchen products, where you can find them, and to discover some great new recipes.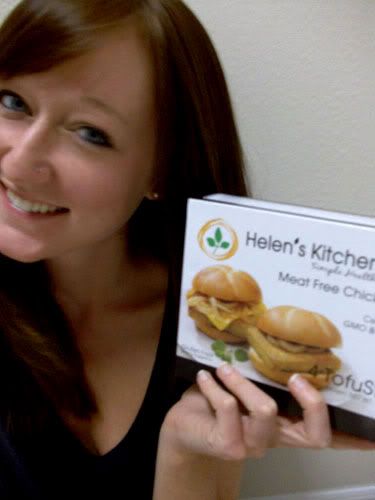 Related posts: