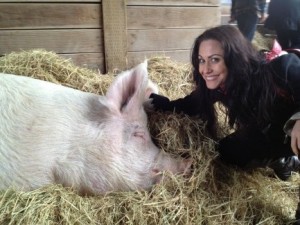 Not really known for being a hot tourist town, Orland, California is actually quite special. With hundreds of people visiting this small farm town north of Sacramento, the main attraction is Farm Sanctuary. A beautiful farm dedicated to saving farm animals from slaughterhouses and other awful environments, giving them a new lease on life. Though Chico is only 20 minutes away, I was surprised to find some compassionate eats in this sweet, historic, all-American town!
One of the most beautiful places you can visit is Farm Sanctuary. With locations in New York, Los Angeles and in Orland, the opportunity to spend time with rescued farm animals is priceless. Founded by the compassionate vegan, Gene Bauer, Farm Sanctuary is the epitome of ethical vegan locations and if you find yourself getting the vegan munchies, be sure to stop into the gift shop for some goodies! I had the honor of speaking at their annual Celebration for the Turkeys this past Thanksgiving. A wonderful event that celebrates the turkeys, instead of consuming them, and feeds over 200 guests a delicious vegan Thanksgiving meal. It is 1 of 2 big events they do at each of the locations and one that everyone should experience at least once ; )
On the evening before the celebration, I was wined and dined at Farwood Bar and Grill. A historic establishment since 1916, Farwood actually has a secret vegan menu and the chef whips up an incredible vegan gourmet meal if you let them know ahead of time. It was a cold and rainy night and our meal was divine. Chef magic was made with a delicious butternut squash soup, incredible fried avocados, a fabulous seasonal vegetable pasta and awesome ice cream for dessert. Be sure to let you know you're coming if you're passing through town and they will hook you up!
For a quick meal, pop into the Soda Shop at 809 4th Street, Orland, for some sweet potato fries and a veggie burger. But if it's chips, salsa and vegan burritos you're looking for, be sure to check out La Corona, located at 1002 6th Street in Orland.
For more information, visit www.HealthyVoyager.com
Related posts: