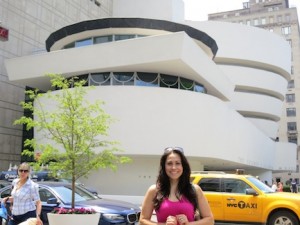 New York City really is a mecca for foodies so there is no way I could get away with just one post on finding healthy, vegan and gluten free eats here. The city is a hub for creative cuisine as well as eco-friendly places to stay while visiting so without further a due, let's get going!
First things first, where to stay. While NYC is known for it's incredible hotels, from chic to posh, trendy to classy, The Barclay Intercontinental Hotel is a city staple. Once part of the Pan Am empire, The Barclay showcases NY class with fabulous progressive green initiatives. Located in mid-town, this historic hotel takes every opportunity to be green. From having their own rooftop bee hive and organic garden as well as doing their own, in-house composting that goes out to local parks to serving local only produce and food and using green lighting in every hotel fixture, The Barclay combines the best of both worlds.
The staff is fabulous and incredibly helpful, the "greeness" of the hotel unmatched. A bit of old school, big city luxury with all the amenities and accoutrements of the hip green hotels. The location is perfect for getting in and around anywhere in Manhattan and surrounding Burroughs in addition to having a comfortable stay and a clear conscience!
Got a hankerin' for some yummy Asian fusion? Gobo's upper east side combines terrific Asian style, vegetarian dishes with some unique international fare. Always fresh and relaxing, Gobo is a hit for all sorts of diners. From omivores to raw foodies, the Gobo menu does not disappoint! I ate a smorgasboard of food that included delicious appaetizers, healthy beverages, awesome entrees and a to-die-for dessert. My personal faves were the crispy spinach & vegan cheese wontons, raw chakra rolls, cashew spinach rolls & the coconut creme brulee! With 2 locations in Manhattan, pop in to either one for brunch, lunch or dinner!
Dessert is eminent when in New York and the premiere place for that is Babycakes NYC. Having expanded to Los Angeles and Disney World Orlando, the original location can be found in Manhattan. A bakery to satisfy every sweet tooth, Babycakes features all vegan treats along with gluten free. Using all natural ingredients, it's a guilt free indulgence that will put a smile on anyone's face. I dig their caramel berry donuts and red velvet cupcakes, Mmmm!!
You can't go to New York without having pizza. And you'd be surprised at the killer places that have it! I found a great all natural pizza joint on the upper west side as well as a killer vegan slice on the upper east side.  Cafe Viva is an all-natural pizza shop featuring all sorts of healthy crusts, including gluten free, as well as a slew a ready made and custom vegan pies. Tons of great toppings and crusts, Cafe Viva is amore! And for a real NY pizza experience that has a great vegan option, check out Mariella Pizza. Order up the Sicilian brushetta pie and be transported to pizza heaven! It's no wonder Oprah and Gail named it the best pizza in America!
For a few more awesome places to find healthy, vegan and gluten free eats in Manhattan, check out our part 3 post!
We're not stoppin' here though! No sleep till Brooklyn (next week!)
For more information, visit www.HealthyVoyager.com
Related posts: