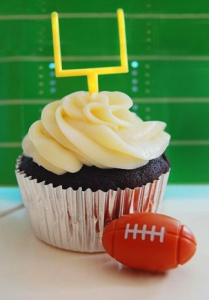 It's time for the big game, the Super Bowl! Whether your team made it or you just want to watch the commercials and have a good time with friends, don't forget your eco-ness! Check out some of these fun and simple tips that can help save you money, as well as the earth this coming Super Bowl Sunday!
Decorate in your team's colors with items you already have. Fruit and veggies are great in glass bowls (strawberries and blueberries for the Pats or oranges and blueberries for the Giants, etc.) Don't purchase single use, disposable decor as they are toxic, wasteful of both money and resources and fill up landfills. Besides, you can eat the edible decor at the party!
Opt for reusable dishware. You can even ask guests to bring their own plates, utensils and glasses! But if you're not in the dish washing mood and want to conserve water, opt for eco-friendly, 100% compostable dishes, napkins and utensils instead.
Buy local, organic produce for your salads, snacks and grillin'!
Recycle! Beer bottles, soda cans, etc – be wise and have a well labeled recycle bin placed in a convenient location at your party.
Grill green! A solar powered grill is the most eco-friendly way to grill, but if that's not an option for, opt for a natural gas grill instead of a charcoal one as it burns cleaner. And if you don't have an outdoor space or it's too cold, invest in an indoor grill or a nice grill pan!
Make smarter drinking choices like juices with organic liquor, organic wines and beers and most of all, drink responsibly.
Opt to make a healthy dish to bring to the festivities. Pre-packaged sides and snacks are full of preservatives and unpronounceable ingredients as well as yucky plastic packaging that fills up our landfills. If you can't cook, bring organic bagged lettuce, organic dressing, a big bowl and you've brought a healthy side everyone will appreciate ; )
Good luck!!!
Related posts: